Dianne Todaro-Wells
Dianne is the creative director and author how to talk to boys. She is the recipient of the 2018 Parenting 2.0 Humanitarian Award for her contribution to support over 130,000 children with books that springboard conversations about their sexual identity. These books have now been translated into 10 languages around the world.
In 2009 Dianne led the re-structure of Interrelate School Services Relationship Education, this service continues to deliver Puberty Talks and Relationship Education programs across Australia to 40,000 children and parents per year.
Dianne started her career as a Primary school teacher and went back to the primary classroom from 2010-2016. She has developed expertise in a proactive approach to communicate with parent communities about their children.
In 2016 she conducted research that addressed a pro-active approach to support parents involvement in their child's sex education talks in the context of primary school.
Carla Todaro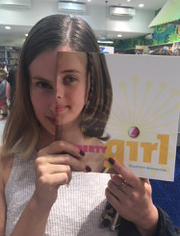 Bachelor of Law with Honours 2018
Carla Todaro is the face on the cover of "Puberty Girl" and "How to Talk to Boys" inspiring "speaking up" about puberty for young girls!
Carla will be running these one day events coming to a capital city near you in 2020.